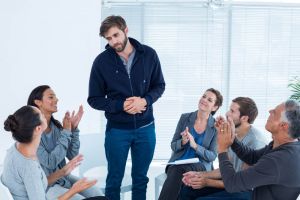 People using drugs are responsible for their behavior. Drug addicts are not. And probably this is the main difference that most people don't realize when it comes to drug abuse and drug addiction. Being addicted means, you no longer have a choice, and you no longer can make decisions in your best interest. Our goal, at Drug Addiction Treatment, is to help individuals escape addiction and regain control over their lives.
Unfortunately, that is easier said than done. Any Arizona drug rehab program needs to focus on multiple aspects related to drug addiction for it to become active and deliver long-lasting results. And battling addiction means concentrating on three main elements:
1. A dual diagnosis treatment
The first two most essential rehabilitation strategies revolve around reversing and controlling the physical and psychological symptoms related to drug withdrawal. Withdrawal sets in usually several hours following the last drug dose the addict has taken. The symptoms include: nausea and vomiting, confusion, the cold turkey syndrome (goosebumps), diarrhea, hallucinations, seizures, along with many others, depending on the type of substance being used. At the same time, medication and psychological support are provided to help control and treat the patient's potential mental problems, be them associated with the addiction or not.
2. Behavioral therapies
These are the next logical step, comprising on multiple strategies, depending on the institution the rehabilitation process takes place at. By default, a private institution will deliver higher quality services than a governmental one, as well as innovative rehab strategies like massage, yoga, meditation, pet therapy, including equitation, art and music and so on. Also, another important treatment method present in all Arizona drug rehab institutions is group therapy, where addicts can share their experiences, socialize and connect with others. An excellent healing environment, where even the patient's family and friends can contribute with moral and emotional support.
3. Prevent relapse
This is one of the most challenging things when it comes to treating drug addiction – the danger of relapse. According to the latest statistics, around 85% of those going through rehab relapse within the first year of completing the treatment, while about 20% of the patients don't get to finish the treatment at all. Even worse, approximately 66% will start using drugs within the first few weeks or even months inside the rehabilitation program. This is why an effective rehab treatment needs to focus on educational and motivational programs as well, for the individual to find the necessary motivation to avoid reinstating drug consumption.
The crude reality is that the effectiveness of the rehab program strongly relies on the patient's determination to change his life and find liberation from under the addiction's lethal influence. It is a long and difficult process, which can only be completed with the help of an immutable will, combined with some of the most effective Arizona drug rehab programs to date. And we, at Drug Addiction Treatment, are preoccupied with the individual's being more than anything else. Everyone deserves a second chance, and we are here to provide it.
Arizona Drug Rehab