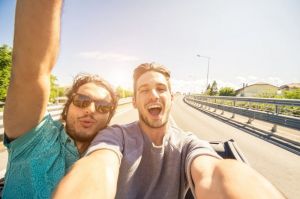 Defeating your drug addiction can be a life-defining journey, and you shouldn't walk this path alone. At Drug Addiction Treatment, we will be your guide along the way, as our California drug rehab treatment is the ideal recovery program.
What to do if I have a problem with drugs?
The only way to play it safe is to contact a professional rehab center immediately. Addiction's biggest threat is that it changes the victim's behavior and mental state. This is why we get to see so many victims of substance addiction avoiding treatment or even refusing to acknowledge their problem altogether. Patients often believe that they are in control and that they can stop taking the drugs whenever they like.
Obviously, that's not true because as soon as the withdrawal symptoms kick in, the victim will relapse immediately. For this reason, we advise against any form of self-treatment or self-medication. Since you don't possess the proper expertise to deal with the issue, you may end up making things worse. Let us handle the matter and provide you with a secure environment where you can recover at your own pace!
Can you cure drug addiction?
The answer is both 'yes' and 'no.' Drug addiction is curable in the sense that you can live a drug-free, fulfilling, healthy life outside the addiction itself. Realistically speaking, however, you will never be off the hook. Substance addiction is a relapsing disorder, which means it can return even after many years of abstinence. The good news is that you are able prevent that.
Our California drug rehab strategy relies on rehab and prevention as part of a life-long recovery treatment. While the medication-assisted treatment is a vital part of the rehab process, it does not represent the heart of it. That spot belongs to all the minor lifestyle changes that will redefine who you are as a person. Very few mental disorders require the patient to adopt new personal and life values, which is what makes substance addiction unique in this regard.
Can I beat addiction on my own?
Most likely not and we wouldn't recommend trying it. Most people who attempt self-detox relapse as soon as the withdrawal manifestations kick in, leaving them mentally and emotionally broken as a result. Self-detox is also dangerous since you lack the necessary knowledge to adjust the medication treatment accordingly. The safest way to defeat addiction is by relying on a professional, certified rehab treatment.
The advantages of participating in a high-end rehab program are numerous, including:
Qualified, friendly staff monitoring your progress around the clock
An effective and safe detox
Advanced psychotherapeutic programs
Emotional and spiritual recovery
Relapse prevention and lifestyle improvement
Social reintegration and personal development
Our California drug rehab treatment ranks among the most reliable recovery strategies in the business. At Drug Addiction Treatment, we offer you a safe, effective solution to a problem that you can't hope to solve on your own. Accept our help and transform your life entirely! Have hope, and you will find salvation!
California Drug Rehab